Regular price
Sale price
CHF 33.71
Unit price
per
Sale
Sold out
Free Shipping 
Witty doubles the battery life of your smartphone by disconnecting it from the charge once it reaches 100%.
Choose your Witty compatible with USB Type A
Witty | Witty Black| Witty White
Witty x1
Witty x2 | You save 15%
Witty x4 | One is free
Does your power supply have a USB type C input?
* Product compatible with all smartphone brands on the market (Xiaomi, OnePlus, iPhone, Samsung, Huawei, Oppo, etc...) (version sold from 11/12/21 onwards)
** Warning, Witty charges one device at a time. If you use a wireless base that can charge multiple devices, Witty will not be able to understand when the device is charged
*** Attention, Witty may not be compatible with wireless charging bases equipped with LED
**** Attention, Witty is not compatible with Laptops, Notebooks and Ultrabooks
How does it work?

Insert Witty between the charger and the charging cable of your device. By pressing the power button, Witty will take care of your battery through ASO technology.
Compatibility

Witty is compatible with any portable device that is recharged via USB type A such as smartphones, tablets, smartwatches, headphones, Bluetooth speakers or Reflex cameras. It is compatible with power supplies up to 65W but the charge will be limited to the 4A USB standard.

There are no operating system constraints. It is fully compatible with iOS, Android, Windows etc.
Dimensions

Length = 4.5 cm
Height = 2.2 cm
Depth = 3 cm
Spedizione

La spedizione avviene in 1-3 giorni lavorativi. La spedizione è gratuita in Italia. Solo se la zona di destinazione viene identificata come "remota" dal partner logistico, viene richiesto un contributo economico aggiuntivo al momento del check out.
View full details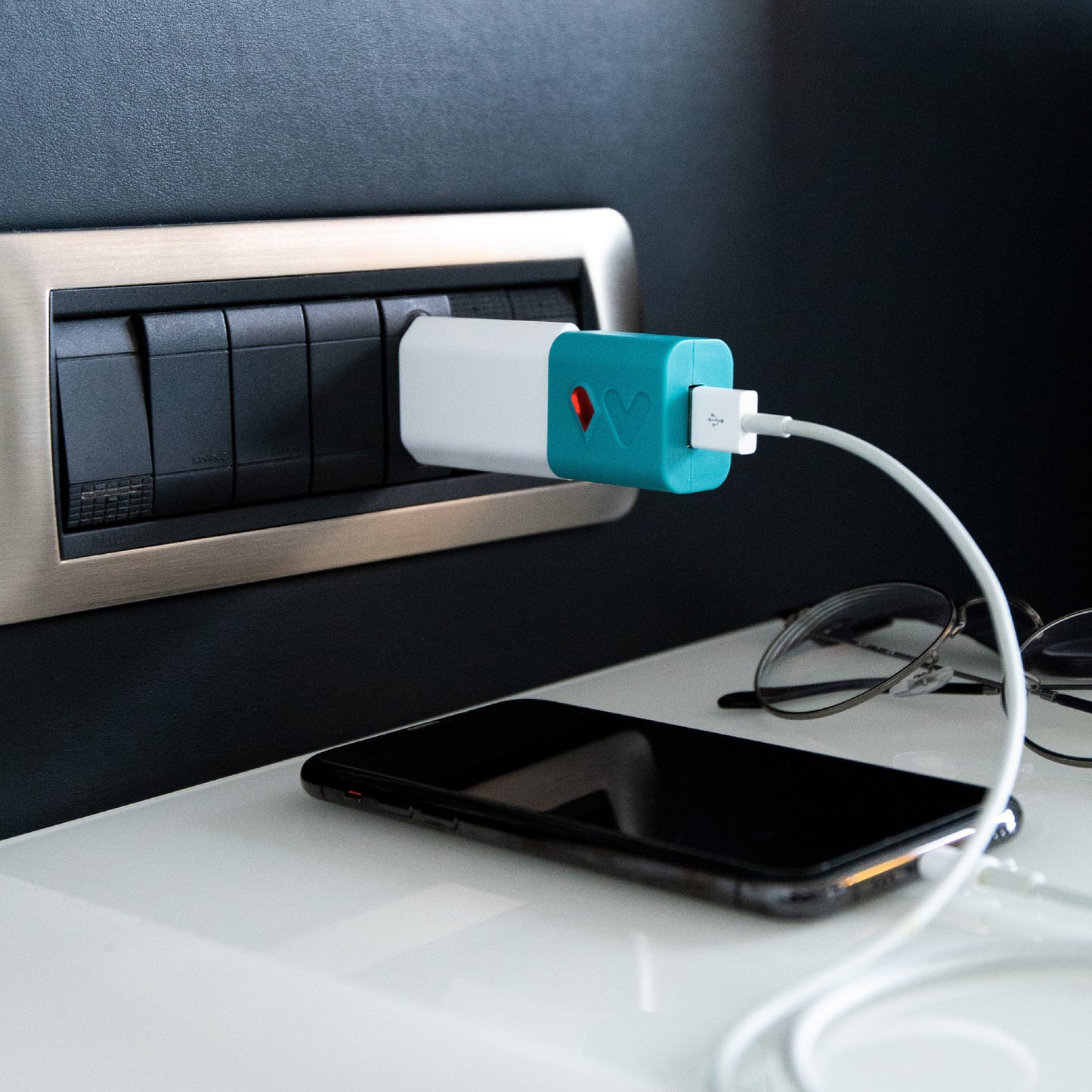 QUASI PERFETTO
Ho acquistato questo dispositivo circa 2 anni fa.
Funziona perfettamente, ma con la ricarica wireless è inutile.
Ho provato varie basette di ricarica, alcune senza led, ma nessuna ha funzionato.
Witty non riesce a capire quando il cell è carico.
Quindi secondo me non funziona con nessuna base di ricarica wireless.
Utile solo fino ad un certo punto
Fino a qualche anno fa quando lo presi, è andato tutto bene. Quando ho preso un nuovo smartphone che ha un caricatore da 33W, arrivato al 100% non si stacca e rimane acceso in continua erogazione. Potrei anche capire che magari non mi garantisca più una ricarica lenta essendo il caricabatterie più potente, ma ora nemmeno fa più quello che promette e per cui è stato progettato (visto anche che nella descrizione del prodotto indica fino a 65W). Peccato. Soldi buttati.
Buonasera Lorenzo,
Inviando una mail a info@wittypower.com potrà ricevere assistenza da parte di un nostro tecnico specializzato che l'aiuterà a risolvere il problema.
A presto
Ottimo utilizzo
Molto utile ben funzionante, lo utilizzo per qualsiasi ricarica senza pensieri di dover controllare per staccare la corrente....super consigliato